WCS helped provide thousands of used plastic water bottles to the Vancouver Aquarium to create an art piece highlighting the large amount of garbage that ends up in our oceans and the detrimental impact the waste has on ocean wildlife and the environment. The art piece is featured on the side of the Vancouver Aquarium building, be sure to check it out next time you visit!
The plastic bottle sculpture was unveiled to accompany the Aquarium's announcement that the facility will no longer be selling any type of single use plastic bottle beverages. Instead of selling plastic bottles, the Aquarium has installed soda machines to dispense drinks into paper cups and free tap water is also available. The paper cups are to be placed in the organics stream and will be taken to a Lower Mainland processing facility which will turn them into compost. With this initiative the Aquarium hopes to reduce their own waste and educate their visitors about the negative environmental impacts of ocean garbage and bottled beverages.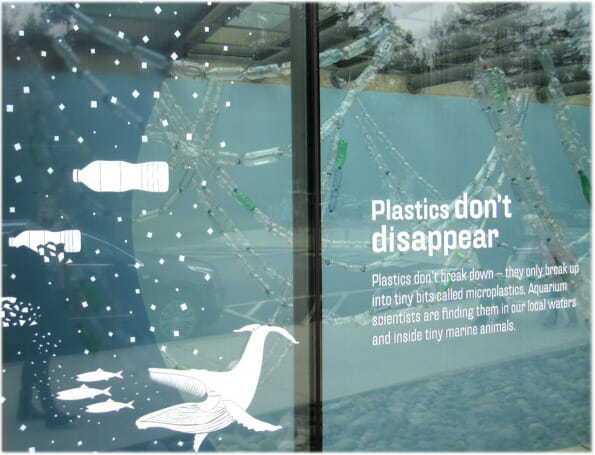 WCS has been working with the Vancouver Aquarium to divert their garbage from landfill through innovative energy recovery and recycling options. In 2016 the Aquarium diverted an amazing 74% of their waste from landfill and together we are working on increasing this number even further. Check out our Aquarium Case Study to read more about Waste Control's partnership with the Vancouver Aquarium.
As a non-profit society dedicated to the conservation of aquatic life, the Vancouver Aquarium is integral in educating Vancouver residents and visitors from all over the world about healthy marine ecosystems and spreading awareness about human impacts on them. The organization has highly respected marine research and rehabilitation programs, and spearheads other initiatives that promote marine conservation such as the Ocean Wise and Great Canadian Shoreline Clean-up programs. Recently, the Aquarium's research about microplastics and the food chain has been featured in local media stories (read CBC's article about it here) bringing much needed data and awareness to the issue.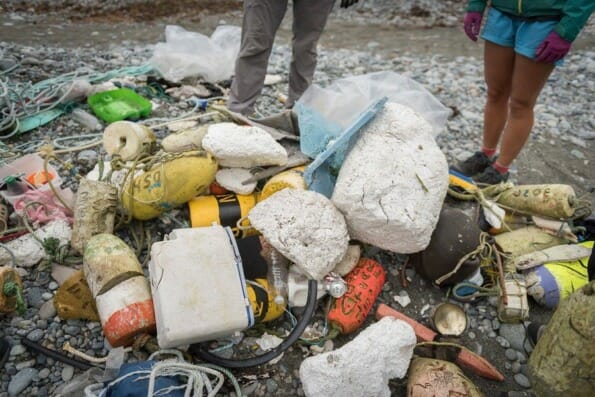 On a macro scale, collection numbers from the Great Canadian Shoreline Clean-up show that ocean garbage is a huge problem from coast to coast in Canada. Plastic bottles (like those featured in the art piece) make up a large amount of the garbage collected by Shoreline Clean-up volunteers. For 2015, the Shoreline Clean-up initiative collected almost 40,000 bottles and more than 50,000 bottle caps. The 2nd most common item collected (greater than 90,000 of them) were food wrappers. The most collected item was cigarette butts, of which more than 400,000 were cleaned from Canada's shorelines.
Want to help reduce ocean waste? Simple efforts you can adopt (in addition to recycling diligently of course) include bringing your own cups, water bottles, and bags to stores, and refusing plastic straws. You can also sign-up for a Shoreline Clean-up near you at www.shorelinecleanup.ca!
Author: Leah Coulter