Inquire about these 20 gallon slim sorting bins here.
Looking for ways to reduce landfill waste at your office or for your business?  Ever wonder what you can do to make a real difference?
Keep reading for tips on how to become a self-proclaimed Zero Waste Hero and create a successful Zero Waste Hub a.k.a. a sorting station complete with everything you need to make recycling fool-proof for your group – so easy your dog could do it!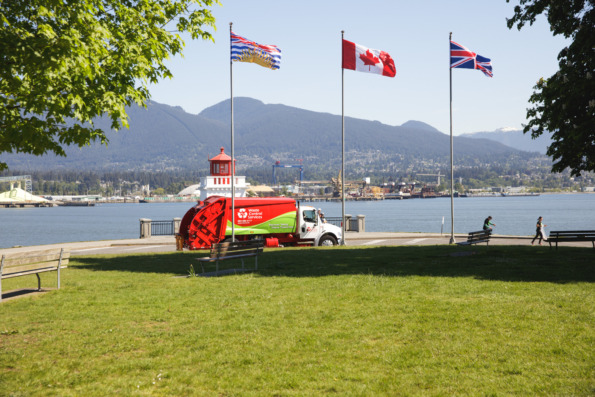 Recycling can be confusing and frustrating as depending on where you are in the world, recycling is regulated differently at the federal, provincial and municipal level. How materials are treated and their recyclability depends on many factors such as:
Regulations on waste management in your area.
Cleanliess of the items (the cleaner the better, the more separation the better). MRF's need to make quick decisions around contaminated loads. Dirty loads get flagged as garbage as they can only handle so much.
Markets existing for the materials being processed (Do manufacturers want to buy the materials?  Do they see value in their quality?)
Volume generated (How much waste or recycling is created in your area and is there infrastructure in place to handle and process it all?).
The waste management company hired to take away your business' or home's waste.  Making it clear what your bottom line goals are (i.e. best end of use destinations; sustainable solutions etc.) can help set you up right with these companies – Waste Control Services specializes in this area, and are known as sustainability stewards that can work with you to determine the best way to handle your waste for your sustainability goals and specific needs.
Now, going back to keeping streams clean for higher recyclability:
What we call "at-source separation" is something key to recycling that happens at the very start of these many hoops materials need to jump through.  Separating and sorting is something anyone can do, and the good news is that people only need to learn which item goes where once, and then after that, sorting becomes habit that requires very little thinking!
One way to help facilitate proper sorting for your group is to create a sorting station that makes separation easy.
We've come up with a few tips on best practice when it comes to creating a Zero Waste Hub or Sorting Station in your group's space for the highest chances of success: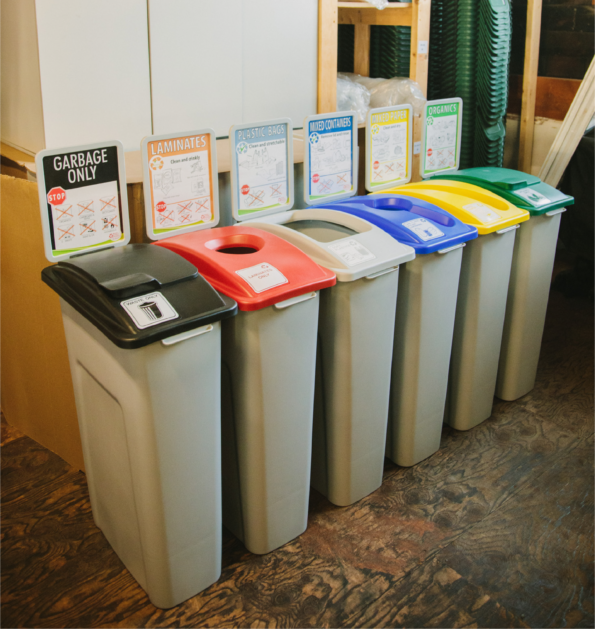 ♻️ Colour-code your streams to differentiate them (Black = Garbage, Red = Crinkly Plastic Bags / Other Flexible Packaging, Grey = Plastic Bags that are stretchable, Blue = Mixed Containers, Yellow = Paper, Beige = Cardboard, Green = Compostables / Organics / Food Waste.
♻️ Keep your stream options in one area of proximity where you can see them all from one point of view. This helps to increase the odds of proper sorting and further helps make it clear the different streams.  If you don't have slim bins like the above, you can test this out with your own bins by walking up to the area, and seeing if all the bins or signs are visible from where you are standing (without having to walk around the corner for example – we find when that happens, the inner lazies come out and the bin often remains unfilled).
♻️ Choose space-saving bins for a smaller footprint.
♻️ Print instructional signs with examples of common "yes" and "no" items applicable to the materials your group generates most.
♻️ If you encounter recurring problem items, you can address those specifically with 'NO signage' stating "NO leftover food" in the Mixed Containers (BLUE) stream.
♻️ Pictures and visuals always help.  Simplify if needed (i.e. Green = "LEFTOVER FOOD", Yellow = "CEAN PAPER ONLY", Blue = "EMPTY CONTAINERS ONLY" etc).
♻️ If your group responds better to visuals as opposed to words, another option is to take a more literal approach and create blank signs with real items taped on (i.e. paper towels in green/organics bin, crinkly chip bags and granola bar wrapped in the red/laminates bin, grocery bags and produce bags in the grey/soft plastic bin etc).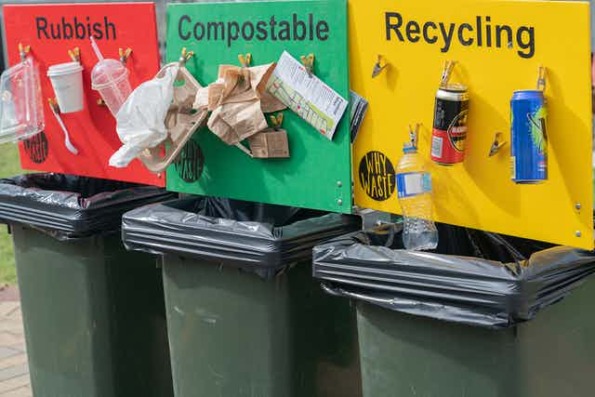 Our customers who have multi-stream recycling collection services with us find that it helps having a sorting area indoors that matches their streams (and signage) outdoors that our trucks tip or service regularly.
Their day-to-day staff easily sort, then the materials are moved to their respective larger bin streams by their janitorial team to then be tipped by one of our WCS trucks.
Having a comfortable area indoors, away from the elements, that is typically less smelly as well can make it easier for someone to stop and spend just a few more seconds to properly sort it out.
To help with this, we carry 20 gallon slim bins for indoor sorting (first photo in this post), as well as signs that go with them, that match all of our larger collection bins.  Ask us about purchasing some of these bins for your group here.
Do you know of any other convenient sorting bin options? Let us know in the comments below!
Author:  Charmaine Wu