Waste Control Services (WCS) has many years of experience collecting garbage and recycling from apartment buildings in the Vancouver region. We have found that adding a couple key components to apartment waste management programs goes a long way. Here are a few pieces of advice for setting up a program at your building.
Our first recommendation is to ensure that signs and bin labels are large and clear. For apartments buildings we provide large posters to stick on walls behind bins. The posters feature universal images so that tenants from multi-lingual backgrounds can take guidance. Afraid that a compactor will confuse tenants? We post simple and clear instructions to ensure tenants are not intimidated and can easily open compactor doors and put garbage bags in.

To enhance clear labeling – it is also very helpful to color code the walls behind different types of bins. To match with our bin labels we recommend: yellow for paper recycling, blue for mixed container recycling, grey for glass recycling, green for food waste recycling, and black for garbage. This is also what Metro Vancouver recommends in their colour scheme guidelines seen above.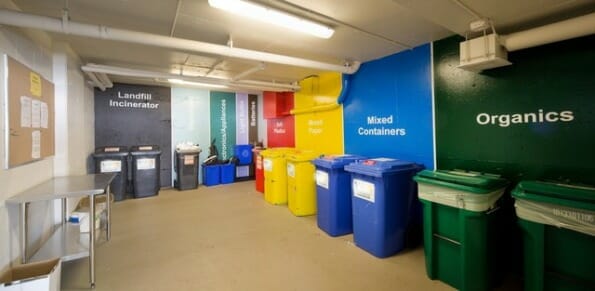 If space permits, setting out a table for tenants to sort materials at can also be beneficial. A sorting table allows tenants to comfortably double check their materials and quickly remove contamination from well-wishing children or spouses.
An additional helpful tool for recycling rooms is the installation of a compostable bag dispenser. Tenants are more likely to participate in food waste recycling when equipped with certified compostable liners to contain their messy food scraps. Tenants can conveniently line small kitchen compost containers with the bags and then deposit full bags into the food waste bins and grab a fresh liner.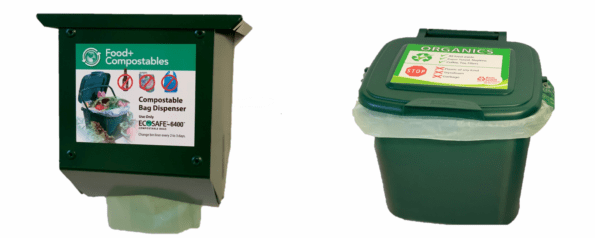 Not all bio-plastics are created equal, the bags need to be approved by our downstream composting facility to ensure their compost is not contaminated. We can advise on and sell you certified compostable bags for use in apartment buildings.
WCS's services go above and beyond to provide maximum convenience, education, and environmental benefits for your building. We fully equip apartment disposal rooms with bins for food waste, garbage, and recyclables such as paper, plastic bags, plastic containers, and even clothing. Not sure how many bins or how frequent of service you will need? Our knowledgeable Account Managers are happy to visit your site's disposal rooms, learn insights about your tenants, and provide a tailored plan for waste and recycling services.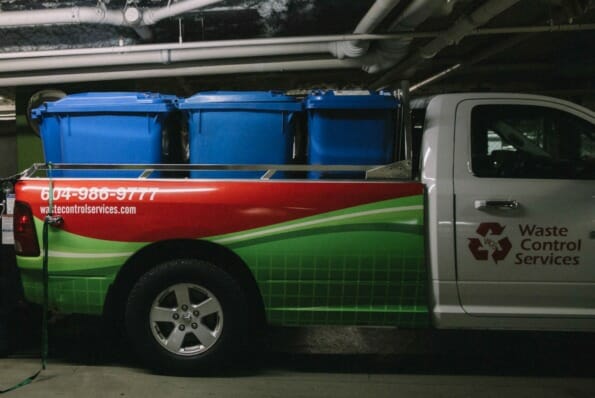 Don't forget, WCS can also provide convenient bin pull-up services from underground parkades! This will allow your building's staff to focus on more important matters then bringing out the bins. Contact us today to learn further about our apartment building services!
Author: Leah Coulter