Mon to FRI 9-3
**As of May 2023** Saturdays 10am-2pm – Depot Open, Office Closed – Please phone or email Monday-Friday as we do not have weekend staff to monitor emails and phones on weekends)**
**Hours may vary surrounding B.C. statutory holidays**
1493 Dominion Street, North Vancouver BC  V7J 1B3
Shredding Drop-off
For a fee, walk-ins are welcome to bring in paper documents for secure confidential shredding. Visitors may bring their paper during drop-off hours, Monday to Friday, from 9am-3pm, no appointment needed. Visitors are welcome to stay and watch in the designated witness area as their paper documents are confidentially shredded and destroyed.
2023 PRICING
SECURE PAPER DOCUMENT SHREDDING:
✓ 1 Banker's Box – $20 per box
✓ 2 Banker's Boxes – $10 per box
✓ 3 Banker's Boxes & up – $8 per box
If you need your paper weighed the charge is $0.40 per pound ($20 minimum).
Note: To shred oversized paper such as rolls of large architectural drawings the price is double.
What do we mean by standard office document banker's box?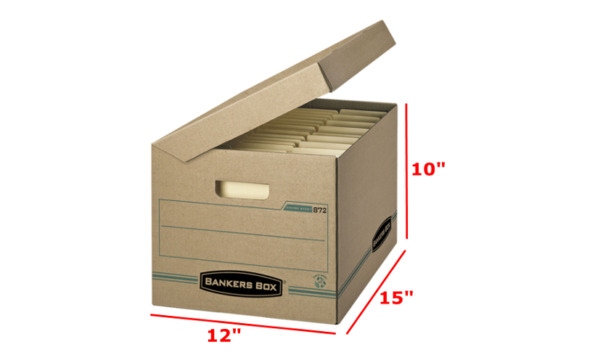 If you have larger volumes and do not have the resources to drop off your documents email us at [email protected] or call us to arrange a one-time collection service, pick up charges may apply. Your paper will be collected by our friendly drivers and transported to our depot where they will be shredded within 24 hours of being received. A certificate of destruction can be provided upon request.
Do you require regular collection service for secure paper shredding? We also offer ongoing confidential paper shredding collection services for businesses.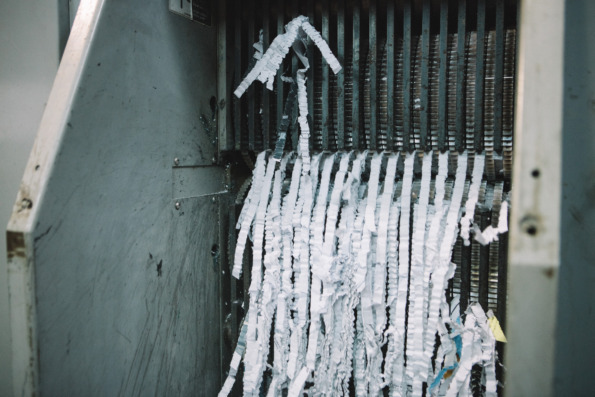 'Witness Area' available
For a fee, we offer secure paper document shredding services for a minimum of $20 per transaction.  We have a designated witness area where visitors may wish to watch from a safe distance, and ensure the secure destruction of their paper documents.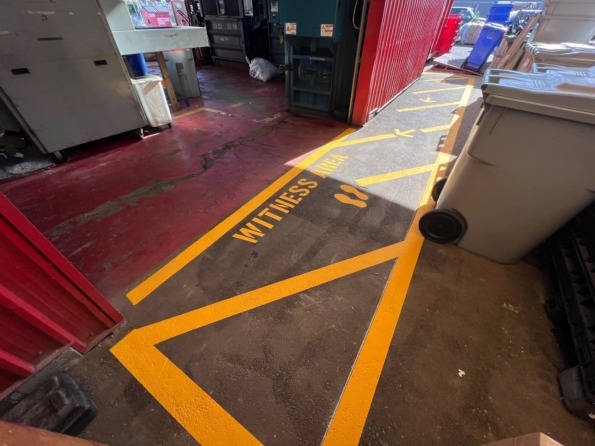 Request a pick up from your location
To request a pick-up (additional fees apply) call us at 604-987-1493 to arrange a one-time pick up, or ongoing regular pick ups from your business or location.  A certificate of destruction is available for your records and a detailed receipt can be written for tax purposes upon request.
For regularly scheduled, ongoing pick-up services for your office, businesses, or home, we offer weekly, bi-weekly, monthly and bi-monthly pick up services talk to us here about how we can help meet your document destruction needs!
Frequently Asked Questions
Q: Do I need to remove paper clips or staples?
Our shredder can handle staples & paper clips.  Any other non-paper items such as black metal clamp clips, metal rings, binders, metal notebook coils, plastic folders, x-ray film from dental or medical records, photo paper is to be sorted out and removed from the material you require shredded.  Booklets must be under 100 pages, and soft cover paper-backed (no hardcover books).
Q: Do you shred hard drives, CD's, etc?
No, we are set up for, and specialize in, office paper document shredding service.